2023 Genesis Electrified GV70 Review: Getting The Recipe Right
Chris Davies/SlashGear
Genesis has an electric car strategy, and it's working: Start with a well-respected gas model, oust the internal combustion engine, and replace it with a fully-EV drivetrain. It's a recipe that has worked for the Electrified G80, and now the well-received GV70 crossover SUV gets the same treatment.
The result is the 2023 Genesis Electrified GV70, and its name is the most awkward thing about it. Starting at $65,850 (plus $1,125 destination), it picks up where the standard GV70 (which runs from $43,150 to $65,150 before options) leaves off. At first glance, you'd be excused for not noticing the differences between the two variants, too. As with the bigger G80 sedan, Genesis intentionally keeps distinguishing features minimal between the drivetrain types.
Just as with the Electrified G80, though, the Electrified GV70 makes a strong case from the outset that EV is absolutely the way to go. Part of that is electrification's general advantages in the luxury segment: speed, refinement, and quietness. Yet the way Genesis implements all that can't be ignored.
Few EV giveaways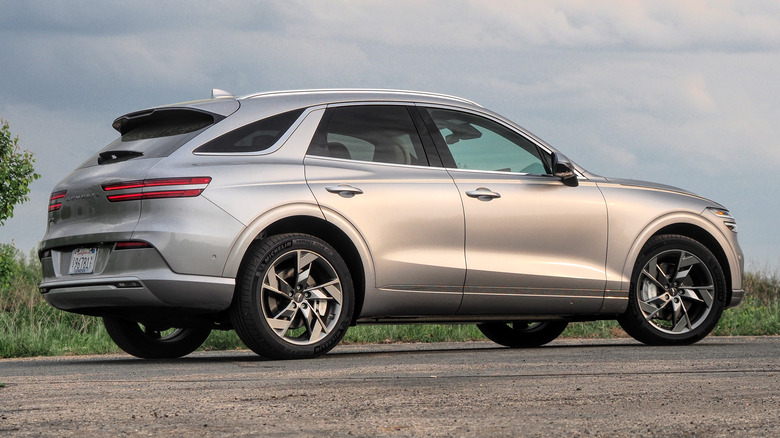 Chris Davies/SlashGear
The GV70 is a good looking SUV. Curvaceous without sacrificing too much in the way of practicality, its long hood, swooping roofline, and bold side creases have a faintly nautical look to them, like a yacht sailing at speed through ocean waves. Genesis' now-familiar lighting design — quad-element headlamps at the front, and narrow glowing slashes for the taillamp clusters at the rear — adds some visual glitter.
Those headlamps flank one of the primary distinguishing style features to help tell the Electrified GV70 and its gas sibling apart. The shield-esque Genesis grille is just as large and bold as before, but rather than open mesh, it has a larger, blocked-out diamond pattern. A chunk of that, when pushed, hinges open to reveal the charger port.
At the rear, meanwhile, the absence of tailpipes is the biggest giveaway. Genesis skips EV-specific badging — though the trunk-spanning "GENESIS" is hardly subtle.
One drivetrain, and it's a good one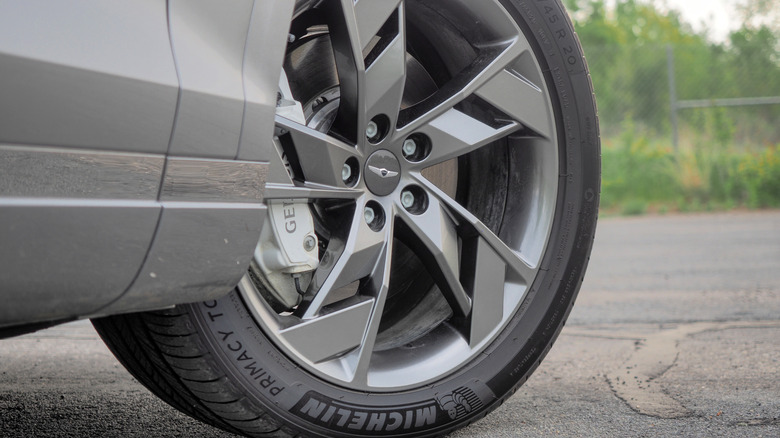 Chris Davies/SlashGear
You could forgive the automaker for crowing, too, as the drivetrain itself is a swell one. There's a single configuration, with dual motors for all-wheel drive, and the same 429 horsepower and 516 pound-feet of torque as the smaller Genesis GV60 crossover. No surprise there, given the Electrified GV70 relies on the same EV platform.
As in other Genesis models, there are a variety of drive modes including a punchier Sport setting. At the base of the steering wheel, though, is a button no gasoline Genesis gets: "Boost." Hit that, and you get 10 seconds of 482 horsepower to play with (along with some amusing dashboard graphics for the countdown).
The result is, as we've come to expect from EVs in general, the sort of straight line perkiness that leaves "performance" gas cars often looking laggardly. Instantaneous torque shoves the Electrified GV70 forward with eagerness: it's not quite the guts-rearranging affair of some electric models, but it's definitely not slow — and absolutely gives the EV an advantage over even the larger 3.5-liter V6 engine option in the regular GV70.
Swift and smooth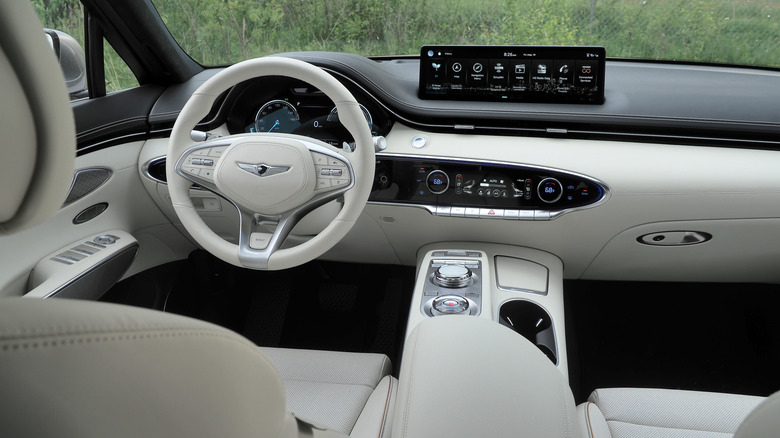 Chris Davies/SlashGear
The Electrified GV70 is, unsurprisingly, heavier than its gasoline compatriot, though only by around 600 pounds. That's 600 pounds on top of an already fairly hefty SUV, mind. Your expectations for corner-carving are set out from get-go, and for the most part, this new EV lives up to them.
With the battery pack mounted low, the center of gravity is similarly dropped down in the SUV. Genesis has fiddled with the stiffening and other body and suspension settings, too. The result is still on the softer side than some automakers dial in for electric models — not necessarily a bad thing, given the impact trimming body roll also has on general ride quality. This means that while the Electrified GV70 is undoubtedly grippy in turns, it's not a crossover you have the urge to autocross in.
I figure that's just fine for the target audience. Toggle into the more comfort-minded drive modes, and the midsize electric SUV wafts along nicely. It's quiet, refined, and very smooth, even on its 20-inch wheels. We can probably credit Genesis' Road Preview system — which scans the asphalt ahead and preemptively adjusts the electronically controlled suspension — for at least some of that cosseting. Paddles on the steering wheel make adjusting the levels of brake regeneration easy.
Reasonable range, but rivals have an edge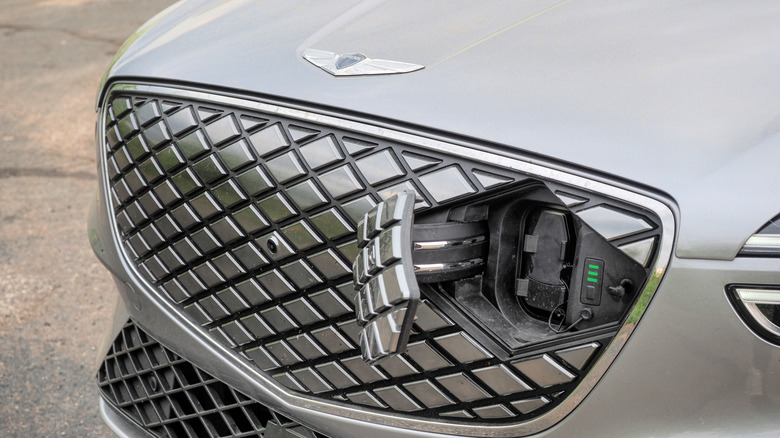 Chris Davies/SlashGear
The downside of Genesis' EV platform, and arguably any car model that doubles both ICE and EV duty, is range. The official rating is 236 miles from the 77.4 kWh battery, or 91 MPGe combined. In practice, that seems pretty accurate.
It means the Genesis compares solidly to the Mercedes-Benz EQB, which is rated between 227 and 243 miles, depending on configuration. Side-by-side with the BMW iX xDrive50's 324 miles of range on 20-inch wheels, though, and the Genesis starts to look a little underwhelming.
Admittedly, you'll pay more than $87k for the BMW. Cadillac's Lyriq is closer on the sticker price than the Genesis is, though actually finding stock of the EV for sale is unexpectedly difficult still.
As is so often the case, Tesla's offering looks strong in comparison, too. Even the cheapest Model Y — currently from around $47,500 — has 279 miles of range; a Model Y Long Range is still cheaper than the Electrified GV70, but has almost 100 miles more range from its battery. Get inside the Genesis, though, and you notice what your money is getting you.
Two well-equipped trims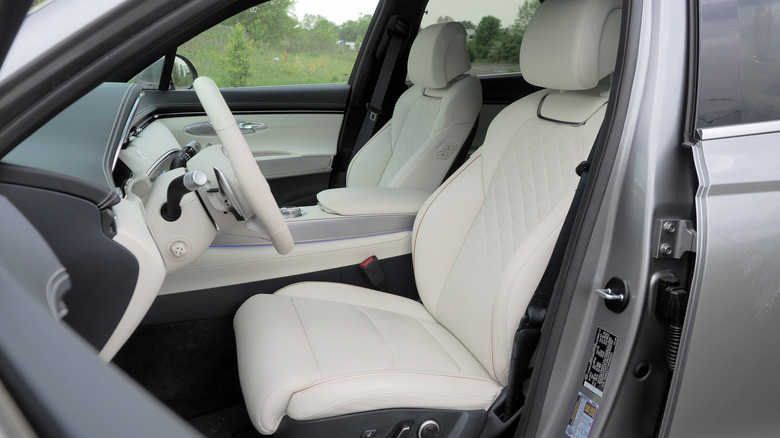 Chris Davies/SlashGear
Genesis offers two trim levels for the 2023 Electrified GV70, the standard Advanced or the Prestige (shown here) for $6,800 more. Rather than nickel-and-diming on options, the Prestige trim is basically everything you could throw at the EV. Even Advanced trim, though, is well-equipped.
Both versions get a panoramic sunroof, power liftgate with hands-free activation, leather seats with power adjustment, front seat heating and ventilation, Ergo Motion massage for the driver, fingerprint authentication, and wireless phone charging. The infotainment system gets a 12.5-inch touchscreen atop the dashboard, plus Apple CarPlay and Android Auto support (sadly wired, not wireless). Genesis Digital Key is also supported for using your phone as a key.
Prestige trim upgrades the standard 8-inch digital cluster to a 12.3-inch version. The bigger panel also supports 3D graphics, but I switched those off because the virtual depth effect also makes the UI look crunchily low-res. A head-up display is included, plus Lexicon Premium Audio, nicer Nappa leather on the seats, leatherette on the upper instrument panel, and microfiber suede for the roof liner.
A refined and supportive EV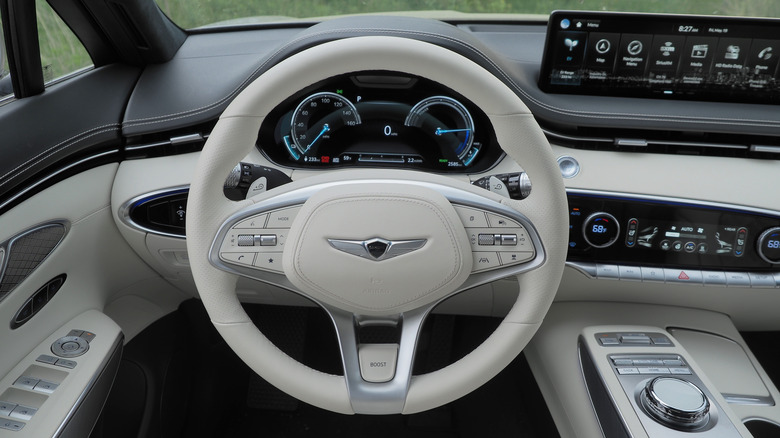 Chris Davies/SlashGear
Genesis also includes heated second row seats and a heated steering wheel in the Prestige package, along with manual rear door shades and its active noise cancellation system. It leaves the Electrified GV70's cabin one of the nicest in the segment, the dashboard tech being easy to use, with a solid mix of physical and touch controls. Genesis gets the detailing right, too, like its crystal drive select knob and pleasingly knurled volume controls.
Highway Driving Assist II — which mixes adaptive cruise control with lane-keeping assistance — is similarly rewarding, not least because it'll add its surreptitious steering help on non-highway routes as well. It's a hands-on system, and standard on the Electrified GV70, along with lane-keeping assist, lane-following assist, blind spot warnings and collision avoidance-assist, rear cross-traffic collision avoidance-assist, and forward collision-avoidance assist.
Genesis also includes front and rear parking sensors, a 360-degree camera, and safe exit assistance. Remote Smart Parking Assist allows the EV to pull forward or back out of a space from the buttons on the key fob.
Some of the fastest charging around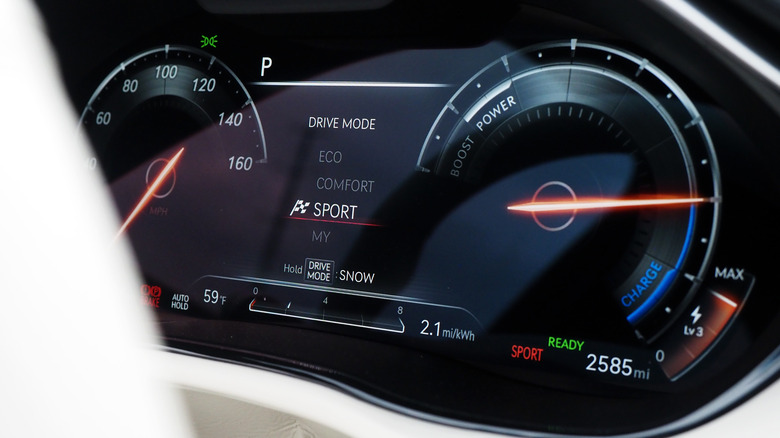 Chris Davies/SlashGear
As for topping the battery up, the Electrified GV70 supports up to 240 kW DC fast charging. Locate a 350 kW, 800V station, and Genesis says you're looking at 10% to 80% in just 18 minutes. Assuming you can find such a charger, it's fully working, and all other conditions are met, which in the EV world can feel a little like witchcraft — that's very swift, indeed.
Genesis includes three years of 30 minute DC fast charging sessions at Electrify America locations, along with its 5 year/60,000 mile warranty, 10 year/100,000 mile powertrain warranty, and 10 year/100,000 mile electric vehicle system warranty. With a Level 2 charger at home, you're looking at around eight hours for a full charge.
As we've seen from other Genesis EVs, the Electrified GV70 supports vehicle-to-load (V2L). There's a 110 volt outlet which can power tools, appliances, or campsites (albeit with a 16A limit, and the car will shut down the outlet when the battery hits 20%). Sadly, there's no way to directly hook the Genesis up to a house to power it in full during an outage.
2023 Genesis Electrified GV70 Verdict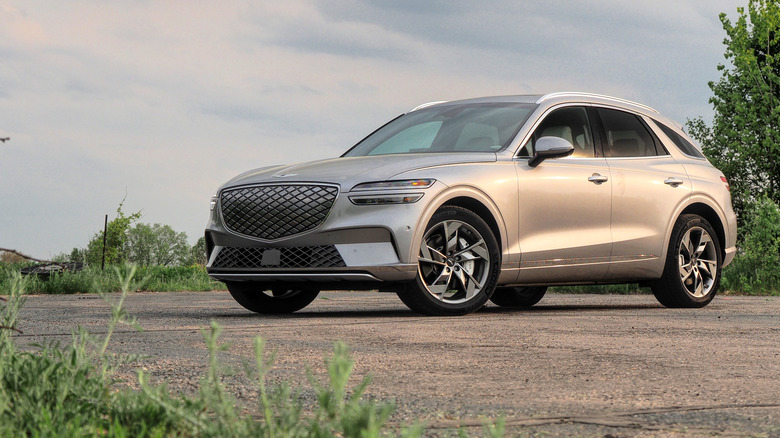 Chris Davies/SlashGear
Like with the Electrified G80, arguably the biggest frustration for would-be Electrified GV70 buyers is the fact that Genesis isn't offering it across all U.S. states. In fact, dealers in only 23 states will be selling the electric SUV, a bottleneck the automaker blames on "extremely limited availability."
That's a shame, given how competitive the Genesis is. The combination here of daily driver refinement, practicality — cargo space is almost exactly the same 29 cu-ft as the gas version — and speed when you want it adds up to an EV that's fun and flexible to live with.
Would the 2023 Electrified GV70 be an even more appealing car with greater range? Undoubtedly, but as packages go, Genesis's EV does a surprisingly good job at getting you to look beyond the constraints of its battery, and when time is of the essence the speedy charging should get you and your refined electric ride back on the road more rapidly than most of the SUV's rivals.