12 Major ChatGPT Alternatives Ranked Worst To Best
Ascannio/Shutterstock
The human race is in an era of rapid technological advancement. The advent of AI, namely Open AI's ChatGPT, is just the latest in a series of life-altering programs to land in public hands. Since its inception, ChatGPT has captured the imagination of people around the world and has no shortage of potential uses that help bridge the knowledge gap and make simple tasks even easier. The conversational nature of the technology allows users to obtain accurate information and suggestions based on logic. Mathematical equations and scientific theories have been made easier than ever before, and as a result, the technology has become an invaluable resource for users from all walks of life.
As popular as ChatGPT has become, it is important to recognize its strengths and weaknesses and understand the alternatives currently in the space. For as much as ChatGPT is capable of, some of its alternatives can perform some of its functions better, particularly when they specialize in one of ChatGPT's many features. Some alternatives can provide more current, up-to-date information, while others specialize in working with children. Either way, there is value in understanding the pros and cons of ChatGPT's competitors as the AI landscape continues to settle itself in the coming years.
Here are 12 ChatGPT alternatives, ranked from worst to best. Most alternatives will primarily utilize GPT-3 and GPT-3.5, with GPT-4 currently locked behind paywalls.
12. Perplexity
Perplexity AI is an alternative to ChatGPT that is free to use and currently still in its beta phase. Perplexity is a search engine that makes use of OpenAI's GPT-3.5 API and sets itself apart from competitors by presenting responses supported by credible sources from the vast expanse of the internet. With its user-friendly interface and focus on simplicity, Perplexity AI provides short conversational responses similar to ChatGPT while leveraging external references to enhance accuracy and reliability. Perplexity also has a simple user interface that should be easy to navigate for those who are less technologically inclined.
The engine prioritizes accuracy and transparency, in large part due to its reliance on external sources and texts, which it will promptly cite in its answers. However, the engine, while conversational in nature, is less so than ChatGPT because of its reliance on sources. In fact, while users can ask Perplexity AI anything, the search engine often shows information as it was originally written, which could result in plagiarism for those looking to recycle its answers verbatim. Meanwhile, there are plenty of other ChatGPT alternatives known for creating original content 100% of the time. While ChatGPT's accuracy still leaves something to be desired, its wide array of features gives it a considerable edge over Perplexity at this time.
11. YouChat
YouChat follows in the footsteps of ChatGPT, acting as an AI search assistant designed to facilitate human-like conversations. Introduced by You.com in 2023, YouChat presents an array of capabilities ranging from problem-solving and language learning to content creation in any language. YouChat's language compatibility is one of its landmark features, as few AI chatbots have embraced diversity quite like this one has. The feature is also particularly notable for users looking to engage global audiences and expand their reach. YouChat is also similar to Perplexity in its willingness to lean on reliable sources and cite the information to provide the most in-depth and accurate outlook possible.
YouChat is not a perfect AI chatbot, however, and its makers acknowledge this. It is not as accurate as some of its competitors as the model is still a work in progress. As a result, there may be instances where users are not receiving timely or accurate information, and those looking to use YouChat would be encouraged to fact-check before using any information the chatbot elicits. Sometimes, it may not even provide an answer, instead responding to users with an answer such as, "Oops, I'm still learning and I couldn't generate an answer right now." Those who have been taking advantage of AI's capabilities should keep an eye on YouChat, but it may not be a go-to for those looking for thorough, accurate answers right now.
10. Jasper Chat
Jasper Chat, developed by Jasper, is a strong conversational AI platform operating in the cloud. Formerly known as Jarvis, Jasper.ai has gained a strong foothold as one of the most widely used AI writing tools in the market alongside Writesonic. The platform's strength lies in its ability to generate content with speed and quality in mind, making it a particularly ideal solution for companies requiring time-efficient content creation. Within Jasper.ai lies Jasper Chat, an interface similar to ChatGPT that facilitates seamless conversations with AI. The easy-to-use user interface ensures access to the AI's conversational abilities without complication, enabling its user base to engage in continuous, context-rich conversations.
Jasper Chat's information is effective up until summer 2021, so it will not be able to answer any inquiries after that time, similar to ChatGPT. Perhaps the biggest difference between Jasper Chat and the industry leader is the price. While ChatGPT's GPT-3.5 interface is free to use, Jasper Chat will cost users a pretty penny to take full advantage of its services. The chatbot is only available for paid subscribers. Plans start from $49 per month, and the company has also discontinued its cheaper, more beginner-friendly Starter plan. While its technology is seemingly effective, Jasper Chat charges nearly $50 more for users to take advantage of some of what are ChatGPT's most basic features. The subscription price is also still more than double what a premium subscription costs to ChatGPT.
9. DeepL Write
DeepL Write is an AI application that specializes in writing-intensive content generation. This interface does not have the bevy of features ChatGPT has, but rather focuses on one of ChatGPT's capabilities and expounds upon it. The product serves as a great alternative for those looking to generate original, plagiarism-free content in a more refined voice than the one ChatGPT offers. DeepL Write has some added utility as a writing aid for its users, providing its base with grammar corrections as well as helpful suggestions and recommendations on style, tone, phrasing, and word choice, helping its users improve as writers along the way. It also has some utility as a translation device.
Neeva, the developer of DeepL Write, offers the application as a free trial to test before giving consumers the option to purchase a subscription. A monthly subscription to DeepL Write stars at $8.74 per month, billed annually. Those looking to use ChatGPT strictly for content creation through the written word might get more out of DeepL Write, which appears to be more optimized for that specific feature. DeepL Write is specifically adept at translations and paraphrasing, but the added monthly cost and general lack of research features could leave users with a difficult decision on their hands. ChatGPT may even have an edge on the translation front thanks to a superior ability to detect nuance and coherence in translations in a way most apps cannot.
8. OpenAI Playground
OpenAI Playground is very similar to ChatGPT, starting with the OpenAI connection the two chatbots share. OpenAI Playground takes advantage of OpenAI's GPT-3 model, which comes with a neural network of more than 175 billion parameters. As a result, both tools effectively utilize the power of GPT models to perform a slew of language processing tasks. OpenAI Playground differs in a few positive ways, however, such as being more user-friendly and more accessible to the less technologically inclined. Whereas ChatGPT is more focused on conversational AI, OpenAI Playground offers greater diversity in its features beyond its chatting capabilities.
Non-technical users looking to experiment with an AI chatbot for the first time could and should look to OpenAI Playground before trying ChatGPT. However, ChatGPT is not without its advantages. ChatGPT can output information in several languages while OpenAI Playground is limited to English. Meanwhile, ChatGPT can also generate more personalized and context-specific responses due to its ability to better comprehend and analyze natural language inputs. The differences between the two may seem minute, but those already familiar with ChatGPT can turn to OpenAI Playground if they are ever locked out of the former tool for any reason. It is, for all intents and purposes, a stripped-down, demo-like version of ChatGPT; similar, yet ultimately inferior with fewer capabilities.
7. Socratic
Socratic is one of a small handful of AI alternatives from Google. However, this ChatGPT alternative stands out as one that is marketed to students and children. Socratic provides users with study guides, instructional videos, and step-by-step assistance to facilitate effective learning approaches. Moreover, it leverages the Google "Knowledge Graph" to source information from the internet, ensuring up-to-date and relevant content. Google's "Knowledge Graph" is a landmark feature of Google's AI chatbots and one that really sets it apart from ChatGPT in ways other competitors are unable to measure up to. Like other chatbots, Socratic generates responses when asked questions, and even has an app available for download on both the App Store and Google Play Store.
The app has an additional feature that allows students to scan their electronic worksheets and receive answers and assistance specifically tailored to their assignments. Socratic will not, however, write complete essays the way ChatGPT will, if prompted. It is also not the most accessible program available, as it has not received an update to the app in nearly three years and may not function on recent Android versions. Socratic is also not a free-to-use tool like ChatGPT is. The service costs approximately $5 per month for the first child, while families can add additional children for half the price. There are also pricing options for schools looking to put the tool to use. Ultimately, Socratic retains some of the features of ChatGPT while presenting itself in a package suitable for children and families.
6. Claude
Anthropic, an AI safety and research company, recently launched its take on the next-generation AI assistant with Claude. Claude shares a conversational tone with ChatGPT as well as the diversity of tasks it is capable of performing, such as summarization, search, creative and collaborative writing, and more. The chatbot is available through a chat interface and API in Anthropic's developer console. The company also offers two different versions of the tool: Claude and Claude Instant. The former offers the basic run-of-the-mill features, while the latter prioritizes speed. Anthropic has also partnered with companies such as Quora, Juni Learning, Notion, and DuckDuckGo, all of which help fortify Claude's AI capabilities.
While ChatGPT has captured the attention of many with its conversational tone, Claude takes this feature a step forward, going out of its way to add its two cents in when necessary and ask follow-up questions of the user. As a result, it can come off as the more long-winded chatbot of the two, which could be a positive or negative depending on one's taste. ChatGPT is also the preferred option for those looking to use their AI assistant specifically for coding purposes as Claude is incapable of producing complete evaluation code. It can, however, produce basic sorting algorithms. Those looking to use an AI chatbot for the novelty over the utility may ultimately prefer Claude to ChatGPT.
5. Chinchilla
DeepMind's other AI assistant, Chinchilla, is another ChatGPT alternative that leans on its ability to access a ton of information around the web. For scale, Chinchilla is three times the size of OpenAI's GPT-3, meaning it can generate its answers at a pace that knows few equals. DeepMind's AI tool also touts a 67.5% accuracy rate, roughly seven percent better than the widely used Gopher language model also developed by DeepMind. Chinchilla also offers a less conversational tone than competitors such as ChatGPT and Claude and can answer most questions in just a sentence or two.
Chinchilla is ultimately a great choice for those looking to make use of an AI search engine, receive assistance with writing and content creation and even create AI artwork. However, accessibility is currently an issue as it is not currently available to the public. Those looking to gain access to an early version of Chinchilla are encouraged to contact DeepMind for access to an early version of the technology. As of this writing, there is no timetable for the public release of Chinchilla as well as what a potential pricing structure could look like for the tool's premium features. However, Chinchilla should become an AI staple when it does reach the public, and those with a keen interest in AI should keep a close eye on it.
4. Microsoft Bing AI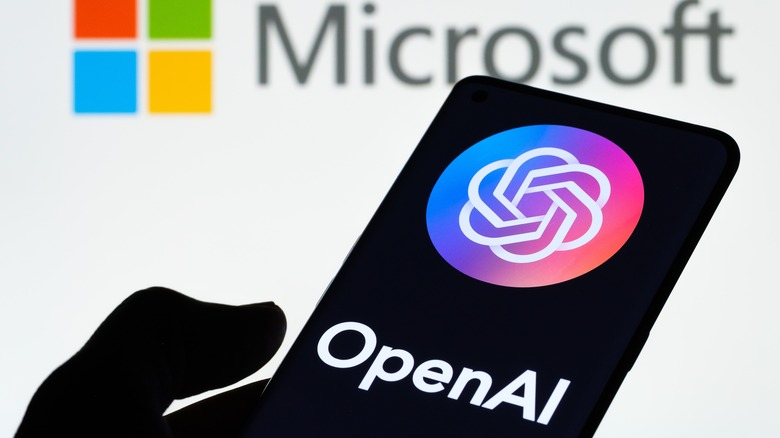 Ascannio/Shutterstock
It should come as no surprise that Microsoft is behind one of ChatGPT's biggest competitors: Microsoft Bing AI. Bing AI primarily functions as an AI-powered search engine, though it possesses AI-rooted features such as "Chat" and "Compose" that can be used as a substitute for ChatGPT. Bing AI can be accessed through the new Microsoft Edge browser, as well as the Bing and Edge mobile apps for Android and iOS users. Like ChatGPT, Bing AI is also largely free and permits users to submit up to 1,000 tasks per month.
Bing AI differs from ChatGPT thanks to the Prometheus model, a form of computing that provides more accurate, timely, and optimized answers to its user base. Users can also ask questions up to 1,000 words in length, whereas ChatGPT has a hidden character limit of 4,096 characters (or roughly 500 words). Bing AI also supports more than 100 languages and has voice search capabilities. In the event that a question is unable to yield a specific response, Bing AI will provide the user a series of recommendations. Ultimately, this ChatGPT alternative will lack the conversational tone of ChatGPT, so those more invested in novelty over utility may want to look elsewhere. However, if obtaining new information quickly is of the utmost importance, Bing AI can be used as a competent replacement for ChatGPT.
3. Bloom
BLOOM stands out as one of the top ChatGPT alternatives for both the quantity and quality of its features. It is one of the best AI assistants at maximizing the features it borrows from ChatGPT. With its 176 billion parameters, BLOOM is able to create text in 46 natural languages and 13 programming languages, putting it on par with some of the top AI assistants in the space. As a result, BLOOM excels at answering questions, translating, and providing grammar assistance. The tool is also open source, paving the way for anyone with the proper know-how to try their hand at enhancing Bloom's capabilities.
BLOOM can currently be tried for free, and those who agree to the terms of the model's Responsible AI License can try their hand at improving the tool. For as solid as it is, BLOOM lacks many of the features ChatGPT possesses and has a more narrow focus on reading comprehension. ChatGPT, meanwhile, is better suited to a wider range of language generation inquiries, though versatility is certainly not everything. If one's sole desire is to utilize AI for text generation, translation, or summarization, BLOOM can be of immediate assistance with the potential for the tool to have expanded utility in the future.
2. Chatsonic
Chatsonic by Writesonic stands out as a strong alternative to ChatGPT for its use of GPT-4 alone, matching what ChatGPT is able to offer premium subscribers. GPT-4 is the significantly larger language model with 170 trillion parameters, allowing for more variety in its answers. It can also generate more accurate and coherent text as well as handle more complex tasks. Chatsonic is also integrated with Google Knowledge Graph, which only further serves to keep the disseminated information as up-to-date as possible. Chatsonic also has an edge in its analytics and customization, and as a result, is a great option for businesses looking to integrate AI into the workplace. Chatsonic also has integration with apps such as Slack, WhatsApp, and Facebook Messenger, and has its own extension users can download for their browsers. 
While GPT-4 is a nice plus for Chatsonic, it is also worth noting that GPT-4 is locked behind a paywall just as it is with ChatGPT. A Chatsonic pro plan will run users approximately $20 per month. Chatsonic does, however, possess more features to justify its more expensive subscription, such as the ability to generate artistic renders. Those looking to give Writesonic a try receive their first 10,000 words free. Professionals looking to prioritize content creation in the written and visual form over problem-solving may take a liking to this ChatGPT alternative.
1. Google Bard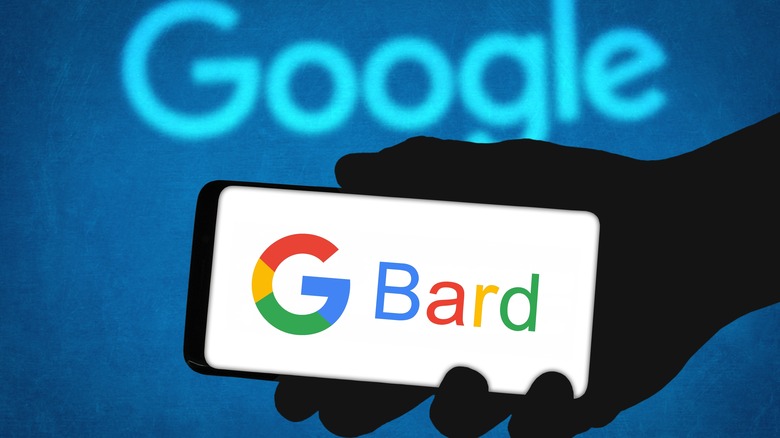 gguy/Shutterstock
Google launched Bard AI in March 2023. Given the company's standing in the world, the fact that many find their AI assistant preferable to ChatGPT should come as no surprise. Adding depth to the debate is Google's use of its unique language model, causing Bard to approach questions in a unique way that could lead to different answers than what might be possible with ChatGPT. Meanwhile, Bard's data sources are also unique. Google's AI assistant possesses real-time access to the internet, providing access to current data and ultimately lending itself to a unique voice in the space. In contrast, ChatGPT is trained on a predetermined dataset that has not been updated since 2021. This aspect alone provides Bard with a significant advantage over ChatGPT.
Nevertheless, ChatGPT is the "smarter" chatbot, in that it is able to better learn from the conversations it has with people and adjust its answers accordingly. However, Bard will instantly produce three different drafts of a single question, allowing users to easily compare and contrast the answers to formulate their own thoughts on a current subject. Bard also possesses an edge in terms of producing concise, readable answers, though ChatGPT is the more ready-made chatbot for producing creative answers and suggestions. Taste and personal preference are ultimately going to be the deciding factor for those looking to choose a chatbot, and some may even elect to use both for their unique strengths.