The Reason Honda Abandoned The Accord's Manual Transmission
Bloomberg/Getty Images
The 2023 Honda Accord commemorates the eleventh generation of the Japanese automaker's bestselling midsize sedan. Apart from an extensively redesigned face and a slew of new interior tech, the new Accord Sport, EX-L, Sport-L, and Touring variants are all hybrids, motivated by a naturally-aspirated 2.0-liter gas engine and a hybrid powertrain with 204 horsepower and 247 lb-ft of torque. Meanwhile, the base Accord LX and EX have a 1.5-liter turbocharged four-cylinder engine with 192 horsepower and 192 lb-ft of torque.
All 2023 Honda Accords have a front-wheel drivetrain and a continuously variable automatic transmission (CVT). One of the reasons why enthusiasts prefer the Accord over its competitors is the availability of an optional manual gearbox. Still, the last manual-equipped Accord left the Marysville, Ohio plant in December 2019, and the 2020 model year was the last for Accord buyers to have a manual stick.
Considering Honda is popular among stick-driving enthusiasts and manual transmissions are still available on the new Civic sedan, hatchback, Si, and Type R, it's strange that the automaker stopped offering the manual option for its Accord starting in 2021. Instead, Accord buyers now have to content themselves with Honda's CVT.
Why did Honda stop producing manual Accords?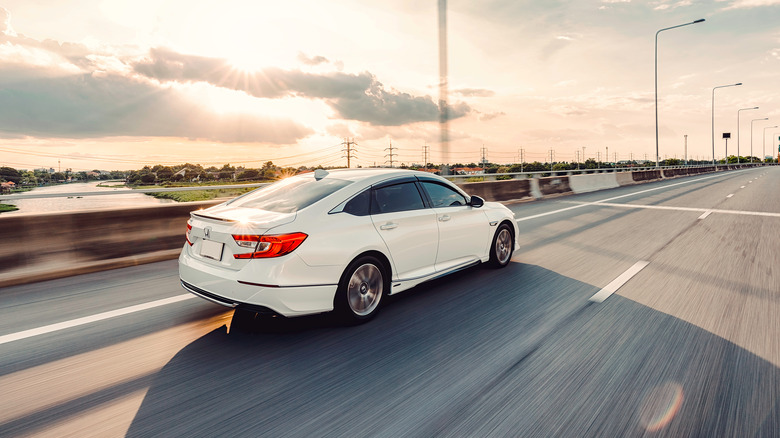 Streetmetal/Shutterstock
The discontinuation of a manual gearbox in the Accord didn't catch the auto industry by surprise. In a 2020 report by Car and Driver, Honda claims manual-equipped Accords only made up 1% to 2% of sales in 2019. The automaker sold 267,567 Accords in that period, and only 2,500 to 5,000 came with the manual gearbox.
Unfortunately, the numbers did not make fiscal sense. As a result, Honda had to delete the manual option quietly as it introduced the 2021 Accord just a year before debuting the redesigned eleventh-gen variant. The Accord's no-cost manual gearbox used to be available to either the base 1.5-liter or 2.0-liter engine, but even a bestselling brand must adjust to changing times.
The mere fact the Accord has survived the onslaught of crossovers and SUVs is an impressive feat. The lack of a manual option for the 2023 Accord is a letdown, but Honda still has the Civic to satiate enthusiast demands.