5 Fast Cars That Aren't Expensive To Maintain
PV productions/Shutterstock
A fast car is the dream of many drivers. Getting behind the wheel of a vehicle that can blaze ahead from a standstill gets the heart racing and makes many feel fully alive in a way that not much else can. A car that's powered by a roaring engine is at the top of many lists of upgrades among drivers. Yet, purchasing a vehicle that can hold its own on the racing strip isn't always cost-effective. Even after the purchase price is considered, many faster automobiles are seriously costly to maintain over the long term. Some luxury automobiles will cost owners thousands to keep running each year, and the average yearly expenditure across vehicles varies between $652 and up to $900.
Every car will need the occasional oil change, spark plug and ignition coil replacement, or tire rotation. These tasks keep your vehicle performing at its best over many years. But owning a car that can tear it up on the highway or local track doesn't have to be exorbitant. These five models offer blazing speed without the overwhelming price tag to maintain year after year.
Dodge Challenger R/T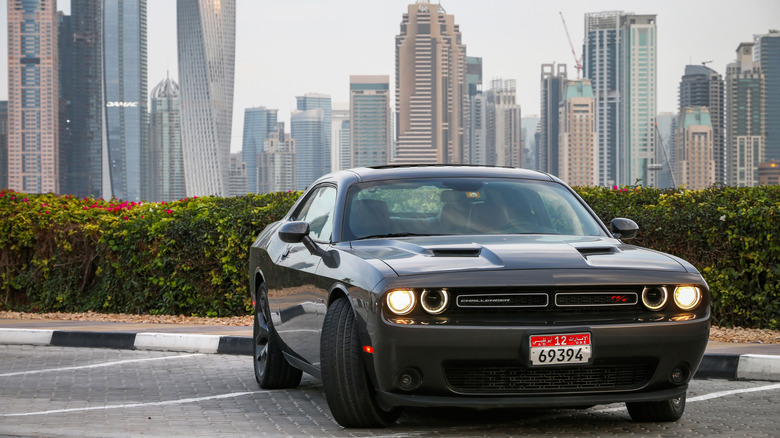 Darthart/Getty Images
The Dodge Challenger R/T is a born-and-bred racing machine. The car is a sporty classic and uses the same boxy, muscular dimensions that racers popularized many decades before. The Challenger R/T has a starting MSRP of $40,805, making it an affordable machine for those looking to bring a new performance automobile into their garage. The R/T model is built with a 5.7L V8 HEMI VVT (variable valve timing) engine as a standard. The HEMI is a storied powerplant and makes for a sublime driving experience for anyone seeking speed and muscle. Buyers will also get a six-speed manual transmission standard in a modern Challenger R/T build. Alternatively, it can be swapped out for an eight-speed automatic.
Dodge is a reliable brand with decades of expertise in engineering performance vehicles. The outfit is also a mainstay in the American marketplace, making repairs a standard job rather than a specialty task. Annual repair costs for Dodge owners come in well below that of many luxury vehicles, and the Challenger model, in particular, averages a figure that's just a hair shy of the average across all car makes at $650 per year. These statistics signal a reliable vehicle that likely won't cost any more to maintain than a far less exciting daily driver.
Volkswagen Golf GTI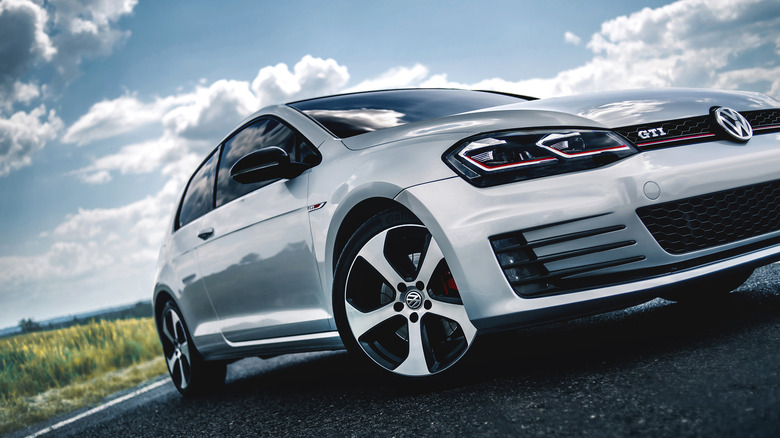 Veyron Photo/Shutterstock
The Volkswagen Golf GTI is a potent driving machine that accelerates like it has a chip on its shoulder. The contemporary model is powered by a turbocharged 2.0L four-cylinder engine paired with a classic six-speed manual transmission. The engine produces 241 horsepower and 273 lb-ft of torque, and the addition of selective driving modes and sport suspension features boosts the vehicle's performance on the road. Buyers can exchange the manual transmission for a seven-speed DSG automatic with Tiptronic shifting and a sport mode feature.
The S trim starts at an MSRP of $30,530, and the interior of the vehicle provides all the modern amenities and smart features that a commuter might expect, like App-Connect, Volkswagen's IQ.DRIVE, and heated front seats. Coupled with the performance driving features, the Golf GTI has a maintenance record that is a serious magnet for potential buyers. Volkswagens are famously durable cars, and the estimated yearly maintenance costs for a Golf add up to $630, notably lower than the average across the automotive industry.
Mazda3 2.5 Turbo Hatchback
Mazda is another quality automaker offering a cross between low maintenance costs and high-performance output. The Mazda3 2.5 Turbo Hatchback is a prime example of this versatility. Mazdas average a yearly maintenance expense of just $426, placing them drastically below the average that car owners across the country fork over to keep their vehicles in shape. The 2.5 Turbo model doesn't cost an arm and a leg to purchase. The starting price for the Turbo trim is $32,450, and the Turbo Premium Plus rises to a starting price of $35,300 for enhanced technology features.
The Mazda3 2.5 Turbo offers four-wheel drive as a standard and is powered by a SKYACTIV-G 2.5L Turbo engine. That produces a maximum of 250 horsepower and 320 lb-ft of torque. The engine is paired with a six-speed automatic transmission with manual and sport modes. The Mazda3 is a quick vehicle, and the hatchback body style makes for an even more agile machine.
Chevrolet Camaro LT1
Camaro is a name synonymous with power and speed. The Chevrolet Camaro has been a key player in automotive racing for decades. The modern Camaro LT1 starts at an MSRP of $37,795 and is propelled forward by a mammoth 6.2L V8 DI engine. The car can be purchased with a six-speed manual transmission or a ten-speed automatic that adds paddle shifting for a slight price bump.
The LT1's V8 produces 455 horsepower and 455 lb-ft of torque. The vehicle's drivetrain is a rear-wheel drive setup, making for an immensely fun car to cruise in. The Camaro might seem to demand a lot of attention when it comes to maintenance, but annual repair averages for Chevrolets come in just below the combined average at $649 per year. This makes the LT1 an excellent choice for a buyer seeking something exciting and affordable both in the buying process and over the long term.
[Featured image by Kevauto via Wikimedia Commons | Cropped and scaled | CC BY-SA 4.0]
Ford Mustang GT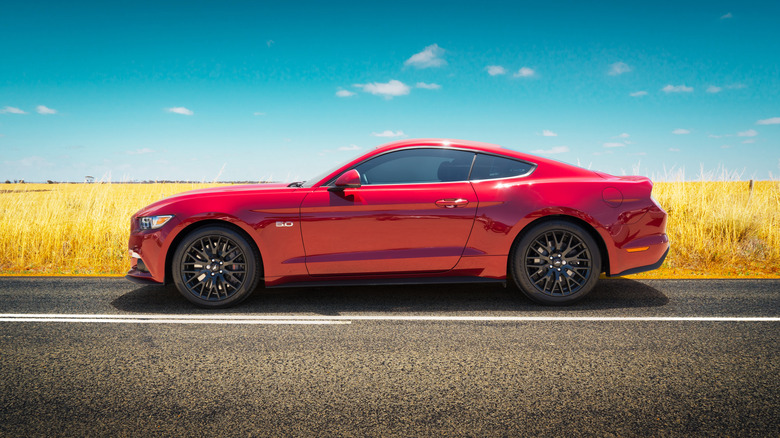 jamesteohart/Shutterstock
Last on this list is the Ford Mustang GT. Mustangs have sparked curiosity and imagination for decades, and the third-generation Foxbody Mustangs (built between 1979 and 1993) remain a coveted vintage ride for many. A modern Mustang GT is an excellent option for a driver seeking something with a historical pedigree, classic aesthetics, and a blazing pace on the track or road. The Mustang is likely the most expensive on this list to maintain over your car's lifetime, with average expenditures totaling $709 annually. Even so, this price tag isn't significantly higher than the average that drivers across the United States are likely to spend every year and, therefore, may warrant keeping a Mustang GT in the running as you search for your next vehicle.
The Mustang GT starts at $38,345 and incorporates all the classic power elements you want in a performance automobile. The GT is propelled forward through a rear-wheel drivetrain and a 5.0L Ti-VCT engine – and, of course, it's a V8 that can be paired with a six-speed manual transmission or an optional ten-speed automatic. The V8 engine produces 450 horsepower and 410 lb-ft of torque. All this adds up to a veritable rocket that remains affordable to keep in roadworthy condition.