5 Of The Best Money-Saving Apps To Use On iPhone
Gabo_Arts/Shutterstock
With things like the recent inflation wave, the economic impacts of the pandemic, and student loans, there has been more focus on saving than in any other recent time, putting the need to budget effectively and maximize savings on more people's minds. Be it for day-to-day expenses such as your daily transport and groceries or long-term commitments such as your insurance premiums, mortgage, or student loan payments, having effective saving and spending plans makes achieving those goals significantly more likely.
To that end, utilizing an app that can track your income and expenses and help you budget, save, and invest can be invaluable. Depending on your financial literacy, confidence, and competence level, you may or may not need various features to suit your needs. These features can range from basic income and expense tracking to budgeting to automated saving and even investment to ensure that you can hit your goals and make it through the month with as little pressure as possible.
Also, since you interact with your phone more often than with your bank, if nothing else, using an effective savings app means you will be more involved with your finances, thus understanding them better.
Oportun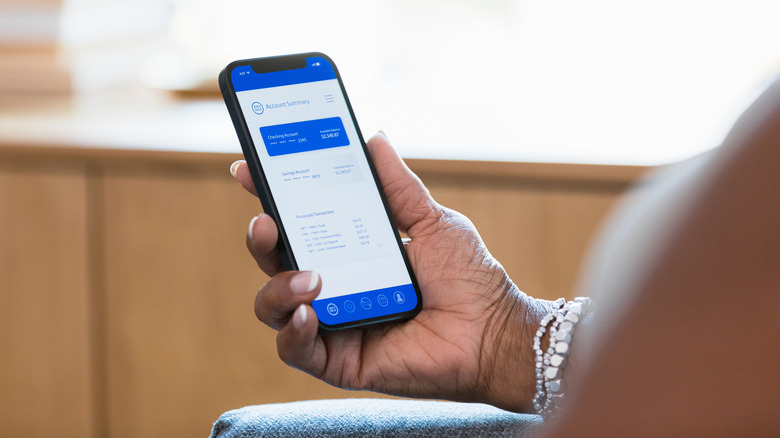 Sdi Productions/Getty Images
Put simply, Oportun takes the thinking out of saving by automatically analyzing your income and spending to move portions of your funds to savings. You may have heard this same value proposition from another saving app, Digit, and with good reason — following its acquisition in December 2021 and a rebrand in March 2023; Digit is now Oportun.
Oportun includes functions that allow you to save, budget, invest, and even access loans when necessary. If you only want to save, the app will achieve this by moving small sums from your linked checking account whenever it believes you can afford to. It decides how much to set aside in savings using several parameters such as your income and expenses (both past and expected), as well as savings goals and daily saving limits you set. If you want to take things a step further and budget using Oportun, you can enter recurring bills and connect your credit cards to the app. This allows it to move funds to a separate Bills account, which you can draw from when paying the actual bills. Following a similar pattern as the Saving function, the app ensures that money is put aside in small amounts so that you aren't shocked by large payments you had not budgeted for.
Oportun is free for your first six months and costs $5 per month thereafter. The app currently has 4.7 stars from 273.7k ratings on the App Store.
Acorns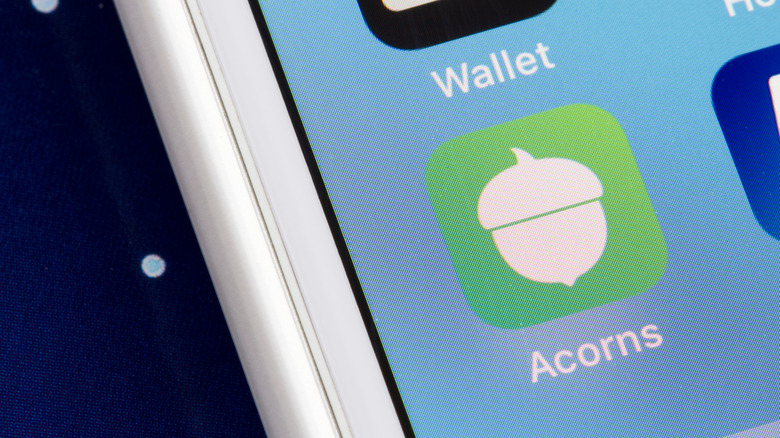 Tada Images/Shutterstock
Acorns help users save via three main mechanisms — investing lump sums manually, programming the app to make regular deposits, and a function known as Round-Ups. The app creates an investment account, a retirement account, and a checking account for each user, to which deposits can be made. While the manual and regular deposit features are pretty common, the Round-Up feature is what makes Acorns stand out.
With Round-Ups, the app allows users to round up the value of every transaction they make to the nearest dollar value, then transfer the difference to their investment account. For instance, if your subway ticket costs $2.75, the app can round that up to $3 and deposit the $0.25 difference into your investment account. Acorns also let you choose between having each transaction be rounded up and deposited automatically and having the power to select which recent transactions you want to round up later. Since these Round-Ups occur with every purchase, a user's investment account can grow much faster than they might expect.
Acorns also has a few other tricks up its sleeve. For instance, it has created partnerships with various outlets to give users cashback deals on their purchases, with the rebates deposited to their investment accounts. It has a Jobs section, where you can look for new opportunities to earn, making it one of the best iPhone apps for earning money.
Acorns charges users $3 a month and has 4.7 stars from 860.2k ratings on the App Store.
Mint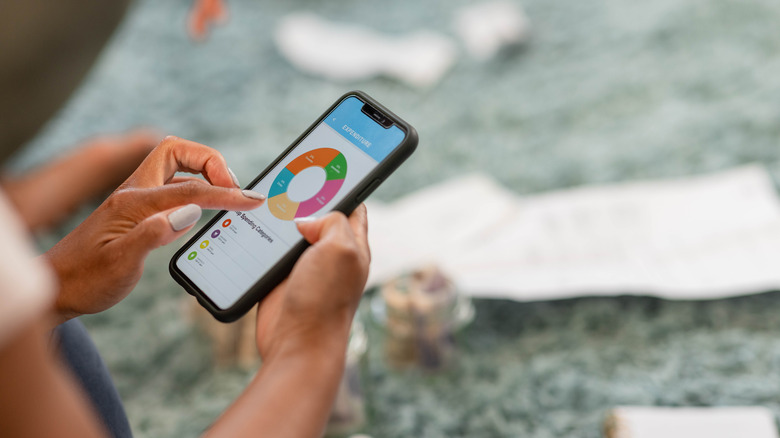 Solstock/Getty Images
Mint is primarily a budgeting app owned by Intuit, the parent company of other household names like TurboTax — a mobile tax app to ease your filing season woes — and CreditKarma and QuickBooks. However, it also offers access to features like investments, banking, credit cards, and personal loans from its partners.
When it comes to budgeting and tracking finances, Mint is quite comprehensive. The app lets you connect most, if not all, of your financial accounts, including bank accounts, investment accounts, credit cards, loans, and more, allowing you to track all of your finances in one place. Using this information, the app can then create a budget for you, or you can create your own. Mint will also categorize your spending automatically (though you can still tweak it if it gets something wrong), so you can easily see what you spend and better understand how to change your spending behavior to save.
In addition to its budgeting and payment tracking features, Mint can track your subscription fees and bills, ensuring you never miss a payment. And when it comes to actually paying those bills, the app can even give you a chance at having your bills negotiated down via its partnership with Billshark. Mint users can also access their credit scores and reports via the app for free. 
Mint is free but gives access to extra features for $4.99 a month and has 4.8 stars from 775.1k ratings on the App Store.
You Need A Budget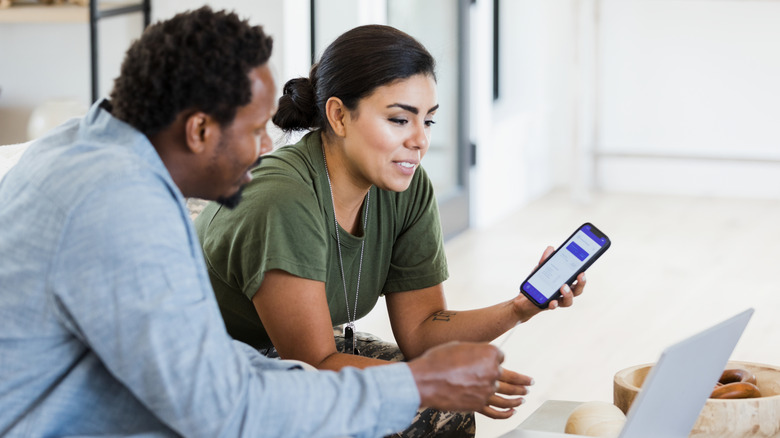 Sdi Productions/Getty Images
You Need a Budget (YNAB) uses a zero-based budgeting system, wherein every dollar you earn is accounted for when budgeting. Compared to other apps which look at your past expenses and then give you the option of budgeting afterward, YNAB focuses on budgeting as its most crucial function, forcing you to make a plan for all of your money from the get-go. It also foregoes many advanced features and integrations other apps may include.
Because YNAB puts the onus on you to make your budget and allocate every dollar ahead of time, the app can have more of a learning curve than the competition. However, making the budgeting process very hands-on, instead of automating it and forcing you to actively think about how you want to spend each dollar, should improve your ability to save. This contrasts with most other apps, which show you how much money you have left to spend. YNAB allows you to create as many specific budgeting and saving categories and targets as necessary to personalize your overall budget to your exact spending needs and patterns. This can give you a much clearer understanding of what you spend and where you can make changes to save more.
You Need A Budget is free for a 34-day trial period, after which a subscription will cost either $14.99 a month or $98.99 a year and has 4.8 stars from 44.8k ratings on the App Store.
Qapital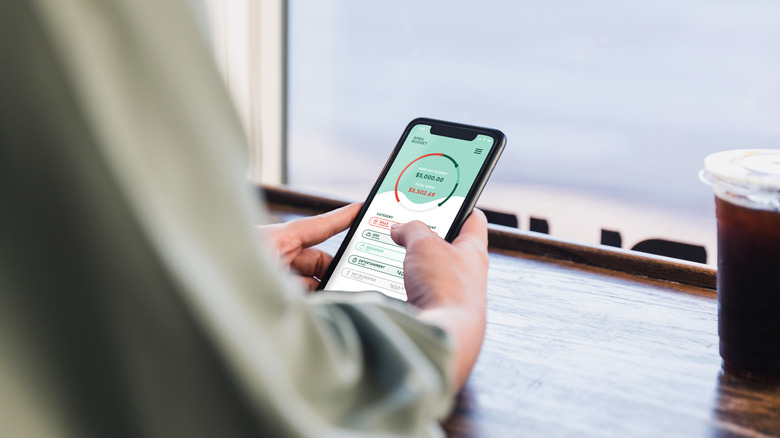 Sdi Productions/Getty Images
Qapital is a savings app with a novel approach — adding an element of gamification to the usual saving, investing, and budgeting elements many apps have.
The app uses what it calls Rules to give you different ways to save. In addition to the Set and Forget Rule, which acts as a basic automated saving system, more advanced rules which will save a little money when you do specific things like make guilty pleasure purchases, end a set period under budget, hit Apple Health goals, or even browse Twitter. Qapital also has the option to share saving with a partner, allowing you to meet your goals faster and motivate each other while doing it.
Aside from its general saving function, Qapital also supports budgeting and investing. On the budgeting front, an upcoming Payday Divvy feature will split your money up on payday itself, allocating it to different areas you set so you don't accidentally spend it. Meanwhile, Spending Sweet Spot has you set weekly spending goals. On the investing front, the app will let you choose portfolios based on your risk appetite and then automatically transfer funds as instructed, even allowing you to set Rules to trigger investments.
Qapital is free for 30 days, after which you must pay a monthly subscription fee ranging from $3 to $12, depending on how many services you want access to. The app has 4.8 stars from 82k ratings on the App Store.